An Efficient Dental Experience
At Saddletowne Dental, the technology we use helps us provide patients with efficient, quality dental care. We use a variety of technologies including dental lasers, digital x-rays and intraoral scanners. 
Dental Lasers
In dentistry, lasers (extremely focused light beams) can be used in a variety of soft and hard tissue procedures. They allow our dentists to perform dental procedures with less pain and fewer medical interventions. 
At Saddletowne Dental, our dentists use lasers to remove overgrown or decayed tissue, to reshape the gums, to harden dental restorations quickly, or to whiten teeth.
Laser therapy can be very helpful for children and adult patients who feel anxious when having dental work done because they can be less invasive than traditional methods.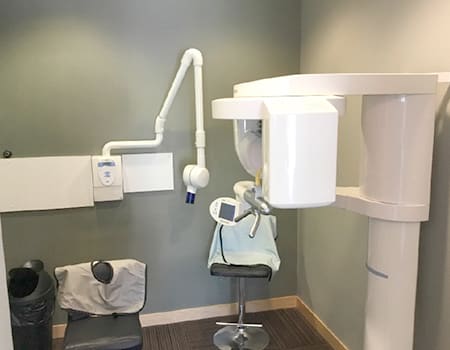 Patient Education with Technology
Because we can display digital x-rays and scans on the monitors in our treatment rooms, we can show you any issues in your mouth and walk you through your treatment plan. Our goal is to make sure our patients are fully informed about their oral health – and dental technology helps us do that.
Digital Intraoral Scanners
We use digital intraoral scanners to produce highly accurate 3D images for enhanced record keeping and treatment planning.
Digital scans allow us to examine your upper and lower jaws in three views for bone cysts, certain tumours, airway issues, jaw joint degradation, sinus infections, chronic infections around any of your teeth roots, and the shape and positions of the nerves in and around teeth, This helps make treatment more predictable.
Digital & Panoramic X-Rays
X-rays are an important part of your ongoing preventive dental plan. They allow your dentist to examine parts of the mouth that are not visible to the naked eye, and identify developing problems and treat them before they become serious.
Digital X-Rays

Digital x-rays use digital sensors instead of traditional photographic x-ray film. They produce highly detailed computer images of the teeth and gums, as well as other oral structures and conditions.

Panoramic X-Rays

Panoramic x-rays allow your dentist to create a single image of your entire mouth. This image is a flat representation of the teeth, upper and lower jaws, temporomandibular joints (TMJ), and the nasal and sinus structures.