Brighten Your Smile!
At Saddletowne Dental in Calgary NE, we offer both in-office and take-home treatment options. Teeth whitening is a safe and effective way to remove stains and lighten the colour your teeth.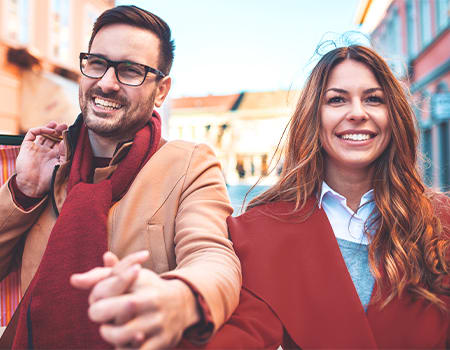 Teeth Whitening in Calgary NE: How It Works
With age, teeth become more vulnerable to staining from food and other substances. Particles are naturally attracted to a tooth's enamel, and products like coffee, tea, berries and tobacco are notorious for staining teeth.
Teeth whitening uses bleaching agents that are peroxide-based and designed to reverse the effects of aging and stains, making the colour of your teeth lighter. Oxygen acts on the tooth enamel as the active ingredient breaks down, creating the whitening effect. 
Teeth Whitening Options
With the in-office and take-home treatment options offered at Saddletowne Dental, you can enjoy a lighter, brighter smile for years to come. 
In-Office Treatment

We will start by placing a shield on your gums to guard them from the whitening solution, and then apply the product to your teeth using a custom mouthguard-like tray. Next, we will activate the solution using a dental laser to break down stains and discolouration on your teeth.

Take-Home Treatment

We also offer take-home teeth whitening kits, so you can lighten your teeth from the comfort and convenience of your home using a custom whitening tray.